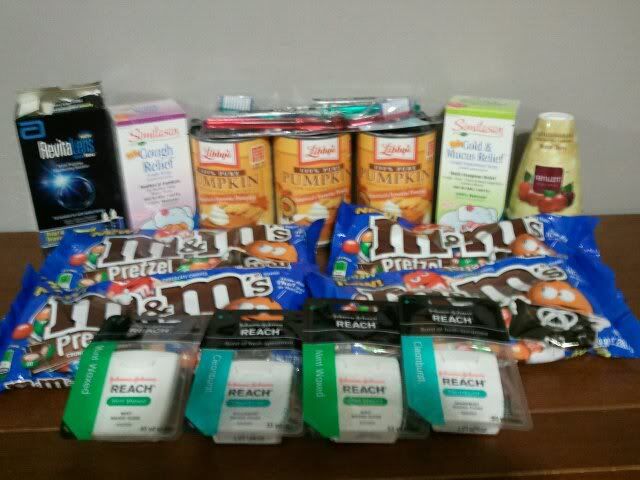 Ok so that's a little bit of a lie. I bought a bottle of Zarbee's cough syrup for kids last week at $5.99 and got a $6 Register Reward that I used towards my out of pocket costs this week.
Here's what I got on my first transaction (shopping trip):
2x Reach Toothbrush
1x Reach Floss
1x RevitaLens Contact Solution
1x Renuzit Cone
1x Similasan Childrens Cough Medicine
3x Libby's Canned Pumpkin
4x M&M Pretzel Bags
Here's the price and coupon breakdown:
.99 Reach Floss or Reach Toothbrush (limit 3) Walgreens in-ad coupon
- $1/1 Reach Floss
HERE
- $1/1 Reach Toothbrush
HERE
x2
Final Price = FREE
.89 Renuzit Adjustable Cone (limit 4) Walgreens in-ad coupon
- $1/1 Renuzit Cone
HERE
Final Price = FREE
.99 Libby's Canned Pumpkin 15 oz. (limit 3)
Final Price = $2.97
M&M Pretzels 9.9 oz. - $3.49 x4
- $1/1 M&M Pretzels
HERE
x4
- $5 Register Rewards
Final Price = $4.96 ($1.24 ea)
RevitaLens Multi-purpose Solution 2pk 2 fl oz - $3.99
- $3.99 Register Rewards
Final Price = FREE
Similasan Children's Cough Medicine 4 fl oz - $5.99
- $5.99 Mail-in-Rebate
Final Price = FREE
I went back for a second transaction:
3x Reach Floss
1x Similasan Chidlrens Cough Medicine
1x Kodak Disposable Camera
I used the same coupons as above...no coupon on the Kodak. (I know it was a total impulse buy BUT Miss A said she needed it for a project). I tried to use the $4 RR from the first RevitaLens to buy a second one but you cannot use the RR to pay for the same item and get a second RR. I didn't know that until the end of my transaction so I had already forfeited the $4 RR. Instead I had the manager exchange the RevitaLens for the Kodak and I paid the $2 difference.
I paid $28.93 out of pocket and received $20.97 back making my final cost for both shopping trips $7.96. Not as good as I had originally thought but it was my first attempt at rolling RRs at Walgreens.
What I would have done differently...held off on buying the M&Ms. The $5 RR offer is good through the end of November so I could have waited for a better sale. I read they were on sale a few weeks ago for less than $2 each. But I have no patience so after buying them anyway, I should have used the $5 RR from these to buy the second RevitaLens or towards the Kodak.
Let me know if you tried any of there and how they worked out for you! Lets learn how to coupon together!